Jabari Asim: Five Classic American Essay Collections
THE AUTHOR OF WE CAN'T BREATHE: ON BLACK LIVES, WHITE LIES, AND THE ART OF SURVIVAL SHARES FIVE BOOKS IN HIS LIFE
Jabari Asim's We Can't Breathe: On Black Lives, White Lies, and the Art of Survival is published today. He shares five classic American essay collections with Jane Ciabattari.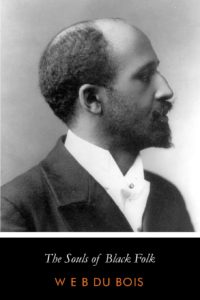 The Souls of Black Folk by W.E.B. DuBois
DuBois is the spiritual great-grandfather of many of us who dare to scratch out essays. His two-fisted wielding of prophecy and lyricism results in lines and phrases that the reader is compelled to recite aloud: "color line," "double consciousness," "two warring ideals in one dark body." In these early essays we see the elements that DuBois perfected in subsequent books and in the pages of The Crisis magazine, including his scrupulous gaze and his finely tuned language. We see the depth and breadth that came to define DuBois' body of work as historian, sociologist, cultural critic, and activist, with all of his sensibilities working in poetic harmony.
Jane Ciabattari: Amen to that. DuBois is a master; I revisit his work regularly. His chapter on the Sorrow Songs ("bursts of wonderful melody, full of the voices of my brothers and sisters, full of the voices of the past") has a passage that resonates a century later: "Through all the sorrow of the Sorrow Songs there breathes a hope—a faith in the ultimate justice of things. The minor cadences of despair change often to triumph and calm confidence. Sometimes it is faith in life, sometimes a faith in death, sometimes assurance of boundless justice in some fair world beyond. But whichever it is, the meaning is always clear: that sometime, somewhere, men will judge men by their souls and not by their skins. Is such a hope justified? Do the Sorrow Songs sing true?" How do you think DuBois' take on the hope, faith and sense of optimism that underlies the music he describes resonates today?
And, I can't help but ask, is he a model for your own life as a writer, essayist, cultural critic, activist, editor of The Crisis, professor?
Jabari Asim: I think he was astutely addressing a durable form of African-American philosophy resonant throughout those early spirituals, a system of thought that insists on "keeping on keeping on" and finding "a way out of no way." Often the faith that DuBois described has involved, as he suggested, belief in ultimate justice, whether on earth or in some afterlife. Many of us, I daresay, are beginning to envision faith primarily as a belief in our miraculous black selves.
DuBois is certainly one of my utmost role models. Sometimes my holy trinity consists of him, Ellison, and Morrison. Other times, it's Douglass, Ida B. Wells, and the '60s-era writer Henry Dumas.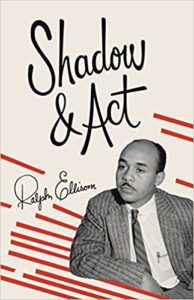 Shadow & Act by Ralph Ellison
Ellison had once aspired to be a musician, and his affinity for melody resonates through his essays as strongly as it animates his fiction. Taken together, these essays and those in Going To The Territory form a wonderfully suitable complement to Invisible Man. The familiar gems are here, including "The World and the Jug," "Change the Joke and Slip The Yoke," as well as lesser-known pieces like "As The Spirit Moves Mahalia." His summation of the great singer might also apply to himself.  "She can dominate even the strongest jazz beat," he wrote, "and instill it with her own fervor." For Ellison, "the real secret of the game is to make life swing." His essays show that he had unlocked that hidden knowledge.
JC: Shadow and Act follows Ellison's life, from Oklahoma to Harlem, and tips the hat to his dreams of being a jazz trumpeter. As you note, his essay on Mahalia Jackson is as vivid and insightful as his own fiction. And his definition of the blues as the "chronicle of personal catastrophe expressed lyrically" is timeless. Are there other passages in Shadow and Act that strike you as exemplifying his affinity for melody?
JA: I've probably quoted this passage in "That Same Pain, That Same Pleasure" more than any other: "I think that the mixture of the marvelous and the terrible is a basic condition of human life, and the persistence of human ideals represents the marvelous pulling itself up out of the chaos of the universe." The opening sentence of "Living With Music" pulls me in every time: "In those days it was either live with music or die with noise, and we chose rather desperately to live." He was also capable of an unabashed romanticism like that found in this riff from "On Bird, Bird-Watching, and Jazz": "Indeed, on summer nights in the South, when the moon hangs low, the mockingbirds sing as though determined to heat every drop of romance in the sleeping adolescent's heart to fever pitch. Their song thrills and swings the entire moon-struck night to arouse one's sense of the mystery, the promise and the frustration of being human, alive and hot in the blood."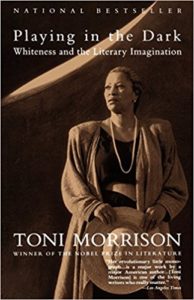 Playing in the Dark by Toni Morrison
Morrison assumes the right to look whiteness in the eye and tell the world what she sees. She moves the black presence in American literature from the margins to the center, which requires, as she describes it, shifting the critical gaze "from the described and imagined to the describers and imaginers." Like DuBois, Morrison flexes her intellectual muscles without appearing to sweat, rigorously dissecting and exposing white neuroses without hesitation. Also, like DuBois, she has mastered the finely hewn sentences that sharpen observations to a razor edge. And she seldom belabors an argument; she makes her point and moves on.
JC: By revisiting Poe, Hawthorne, Melville, Cather, Twain, and Hemingway, and reframing the question of who is an American by pointing out the racism in what is considered American literature, Morrison set the stage for generations of scholars and writers to come. The social structure Morrison reveals exists to this day. And her language is remarkable as she describes it:
"It is as if I had been looking at a fishbowl—the glide and flick of the golden scales, the green tip, the bolt of white careening back from the gills; the castles at the bottom, surrounded by pebbles and tiny, intricate fronds of green; the barely disturbed water, the flecks of waste and food, the tranquil bubbles traveling to the surface—and suddenly I saw the bowl, the structure that transparently (and invisibly) permits the ordered life it contains to exist in the larger world."
How do Morrison's insights influence your own critical work?
JA: Morrison encourages me to unravel that nagging, persistent double-consciousness, which, while integral at times, can also fog my perception at inopportune junctures. Her example helps me to envision an audience that includes people like me, with my day-to-day experiences, my history, and, in the best instances, my perspective.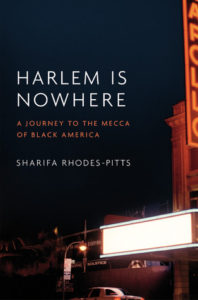 Harlem Is Nowhere by Sharifa Rhodes-Pitts
Rhodes-Pitts had me at her title, an allusion to our man Ellison's 1948 essay. One reviewer called Rhodes-Pitts a collagist, which I suppose isn't inaccurate but isn't exactly complete either. It's true that the images and personalities she finds in her exploration of our country's most famous black neighborhood are as artfully arranged as a Bearden cityscape, but I'm leery of subjecting this collection to easy categorization. I'm particularly struck by the author as an engaging escort through territory that is both familiar and strange, via mellow prose that goes down smooth. What I find as intriguing as her powers of observation is her faith in subtlety. Rhodes-Pitts trusts the clarity of her prose as well her readers' ability to glean symbolism and arrive at conclusions without straining. Her archive-digging and street-level encounters yield personal reflections that never feel like mere navel-gazing.
JC: Harlem Is Nowhere won a National Book Critics Circle award in autobiography in 2011. In my NPR review I called it "a tender, improvisational memoir of several years spent exploring the myths of this capital of African America and the realities of its 21st-century incarnation." One fascinating element of this book is the author's own intellectual literary lineage. At fourteen, in Houston, she set out to read through the works of writers from the Harlem Renaissance. At fifteen she wrote of her imagined Harlem in an assignment that called upon her to write a poem in the style of Langton Hughes' "Theme for English B." In high school she moved on to Piri Thomas, Claude Brown, and James Baldwin. At Harvard she took a freshman seminar taught of Henry Louis Gates' "dream team" of black intellectuals—Cornel West, Anthony Appiah, William Julius Wilson, and others. She also studied with Jamaica Kincaid, Adrienne Kennedy, and filmmaker Isaac Julien. So that training in African American studies and documentary filmmaking underlies her memoir. In my favorite chapter, she revisits journeys to Harlem made by fictional characters in novels by writers including Wallace Thurman, Claude McKay, and Nella Larsen ("Homeless Helga Crane sings that Harlem, teeming black Harlem, had welcomed her and lulled her into something that was, she was certain, peace and contentment"). What's your favorite chapter?
JA: Before answering, I must invoke the right to change my mind. If you ask me this same question next week, I'm likely to have a different response. At this moment, I'll go with "Harlem Dream Books." I'm a sucker for discussions of Hughes, Hurston, Ellison, and Baldwin. The variety of intelligent responses to those four geniuses attests as much to the richness of the source material as to the talented investigators who sift through it. That said, like other good writers, Rhodes-Pitts mines new insights from much-surveyed ground. The observations that she offers are the kinds of stuff that never get old for a blerd like me. Still, I found her material on the uber-collector Alexander Gumby even more fascinating, mostly because I was unfamiliar with him before Rhodes-Pitts' fascinating introduction. He pursued his ambition "to write the history of the Negro in scrapbooks" by assembling hundreds of such compilations, along with thousands of books, rare prints and paintings. The author's recounting of Gumby's melancholy life and his ill-fated "brilliant and strange production" is moving and memorable.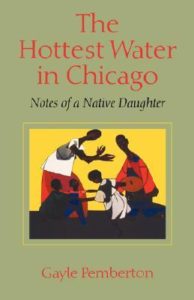 The Hottest Water in Chicago: On Family, Race, Time and American Culture by Gayle Pemberton
I had the privilege of studying with Pemberton, so perhaps I'm biased in thinking she's underappreciated. I think she changed the subtitle to Notes of a Native Daughter when it was reissued, a more self-conscious connection to the essayistic tradition of Baldwin and Wright. Pemberton is as capable a stylist as either, with a robust intellect and a wry, self-deprecating approach. Like the other essayists on this list, she is a writer on whom no telling detail is lost. "Do He Have Your Number, Mr. Jeffrey" is probably the best-known essay from this collection, but there is much to admire in others, including "On The Lower Frequencies" (Ellison! DuBois!) and the wonderfully titled "On Andrew Wyeth, Checked Suits, Broken Hair, Busted Dreams and Transcendence."
JC: One reviewer called this book "a work of jazz-prose." And she has such wit! In "Do He Have Your Number, Mr. Jeffrey," Pemberton describes her mother working as a maid in Los Angeles in the 1930s. Her employers, a screenwriter and his wife who didn't seem to have much for her to do, were nonetheless proud of her, saying she looked "just like a little French girl." Pemberton writes, "Mother explained to me that she thought it 'damned irritating that whites who knew full well who they were hiring and talking to went to such lengths to try to make blacks into something else. If they wanted a little French girl, why didn't they go out and get one?' Ah, the days before au pairs. Well, I knew the answer to that one, too. . . . Mother assured me that she had not cleaned unimaginable filth, but rather, with nothing else to do, had sat all day long reading novels, memorably Anthony Adverse by Hervey Allen, a big best-seller of 1934. My image of Mother became brighter, but in some ways more curious: there she was, imagined as a French maid by her employers, but really a black coed, lolling around a Los Angeles home reading Anthony Adverse. That's one far cry from Butterfly McQueen as Prissy in Gone with the Wind." How did Pemberton's teaching influence your own sense of the essay form and the structure of a collection like We Can't Breathe?
JA: The papers I submitted for her approval were getting me close to something like a cohesive style. I remember writing a paper about Thomas Dixon's The Clansman and Griffith's adaptation of it, The Birth of a Nation, which I saw for the first time in Pemberton's class. As you pointed out, she leavens her text with judicious applications of wit, (Ellison also does this with admirable skill), and she did the same with her lectures. Being in her class called "Black Images in Film, Literature and Art" was the best and most eye-opening experience I had as an undergraduate. She was well organized, enthusiastic and had a deep-catalogue knowledge of everything she discussed. Valerie Boyd, perhaps best-known as the author of an excellent biography of Hurston (Wrapped In Rainbows), was also in that class. I remember that we both hung on Pemberton's every word, and we agonized over every assignment because we wanted so badly to impress her. Just as important, Pemberton patiently read poems and fiction that I shared with her during her office hours, and she encouraged my dream of becoming a writer. It would not be a stretch to say that without her and others' timely support, We Can't Breathe would not exist.